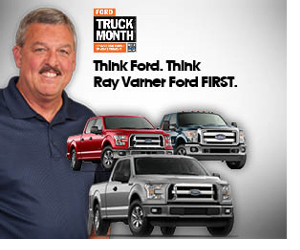 Ray Varner Ford is Ford Truck Country. Long ago, we made it our mission to be the best resource for new and used Ford Trucks in East Tennessee, and we have worked hard to live up to this challenge. This is especially true during Truck Month:
1. We have the trucks available. Our inventory of vehicles is expansive, and we are bringing in new trucks constantly.
2. We offer great prices and exceptional discounts. We know that to be called Ford Truck Country, we have to have prices better than you would find at other dealers. So we provide good discounts. And we get creative: we find ways to use the special offers and sales provided by Ford in conjunction with what we can offer ourselves to give you something more. Right now, depending on the vehicle, you can get over $10,000 in discounts and rebates. Take a look at these specials:
New 2015 F150 Supercab! $28,500! Stock number T4373
New 2015 F150 Supercrew! $35,900! Stock number T4507
New 2016 F250 Crew Cab! $48,500! Stock number T4595
All prices include a special Ray Varner Ford Discount and Ford Factory Rebate applied. With approved credit.
3. We give you the best service. Our service professionals are second to none, and we continually invest in people and equipment to make our ability to take care of your Ford truck even better.
4. We want you to be a customer for life. We do all this because we do more than just try to sell you a vehicle. We try to build an ongoing relationship with you. We want you to come back to Ford Truck Country every time you or someone in your family needs a vehicle or vehicle service.
Truck month is the time to buy at Ford Truck Country. Take a look at our inventory here.