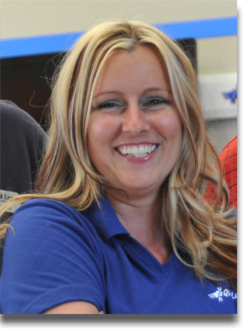 This is part of an ongoing series of profiles of the Ray Varner Ford staff. Our people are what make our dealership great, and as you know more about them, you'll see why so many people come to Ray Varner Ford, again and again.
Serving our customers is what makes our dealership thrive, and nobody provides our customers with better care than Melissa Violet.
Melissa is one of the Advisors in our Quick Lane Tire & Auto Center. She makes sure that when you bring your vehicle in for service, you get prompt attention, the right service, and quick action to get you back out and on with your day.
When you bring your vehicle to Melissa, she starts by collecting a few key details from you on the type of service you need, then does a walk-around inspection your car or truck. She logs the information into the schedule and gets you set up with one of our factory-trained technicians to provide a more detailed inspection and to get your work done.
If the technician spots any other issues that need to be addressed, Melissa conveys that information to you, and lets you decide if you want the additional service. Your work is performed, and your vehicle returned to you as quickly as possible.
That's what Quick Lane is all about. And it's one of the reasons that Melissa says she enjoys her job.
"My job is fun and I love what I do," she said. "You probably don't hear that too often. But the people I work with are great. My boss is great. And I get to help people every day. Not everybody can say that."
The Ray Varner Ford Quick Lane Tire & Auto Center provides a spectrum of service choices. No appointment is ever necessary, and the staff prides itself on getting regular vehicle maintenance tasks like oil changes, tire rotations, and transmission service done quickly and efficiently. But Quick Lane can be much more when you need it: Our thorough vehicle inspections are designed to spot problems before they become costly, and advise you on service that can save you money and extend the life of your vehicle. Should more complex work be needed, our factory-trained technicians have all the tools, parts, and equipment necessary right at their fingertips.
In addition, our Quick Lane Tire & Auto Center offers 13 name brands of tires and a Low Price Guarantee. You can read more about Quick Lane here.
Melissa is a native of East Tennessee, having grown up in Lake City (now Rocky Top). When she's not at work, her two daughters, Haley and Heather, ages 10 and 12, keep her occupied with swimming, four-wheeling, and lots more.