This is part of an ongoing series of profiles of the Ray Varner Ford staff. Our people are what make our dealership great, and as you know more about them, you'll see why so many people come to Ray Varner Ford, again and again.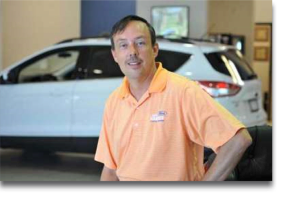 Tim Treadway is a specialist in Internet Sales; you may have communicated with him if you made contact through our website. Tim is a Certified Sales Consultant, and also coordinates events for the dealership.
A native of Erwin, TN, Tim works closely with our Internet Sales Manager, communicating with people who inquire online and with return/referral customers. Tim knows our vehicles inside and out, and he knows how make everyone who comes to Ray Varner Ford feel right at home.
What's his favorite part of working here? "The atmosphere," Tim says. "I tell all my customers that I treat them the way Ray treats all of his customers, with respect."
Tim and his wife, Julie, have been married for 25 years and have four children, all of whom love going to church together and singing in the choir.