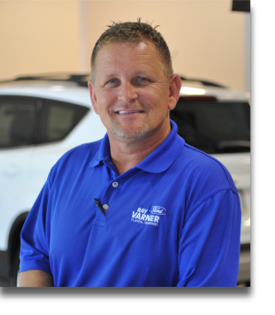 This is part of an ongoing series of profiles of the Ray Varner Ford staff. Our people are what make our dealership great, and as you know more about them, you'll see why so many people come to Ray Varner Ford, again and again.
Robert Holstein is our Internet/Training Sales Manager. Online engagement along with social media with our customers is a growing part of our business and one that's critical to making sure customers are happy. Robert oversees a team of salespeople who respond to inquiries from our website, Ford Direct, and numerous other third party sites.
Their goal: to respond to any question or request from our customers within 30 minutes if possible by means of email, phone or text.
Robert coordinates with our other Sales Managers to provide Ray Varner Ford customers with a professional and stress free experience. He is also our Training Director, overseeing all Ford sales training to insure our staff earns their appropriate certifications. He also works directly with customers on the sales floor and on the lot when other managers are unavailable, helping close sales by providing the best possible prices on new and used vehicles.
He is a Ford Master Certified Sales Consultant, Master Certified Internet Specialist and a Master Certified Sales Manager.
A native of Charleston, West Virginia, Robert moved to East Tennessee in 2006 to help care for his father who was ill and Robert remained in Clinton, Tennessee. Prior to getting into the automobile business with Ray Varner Ford, he was District Manager of the Daily Mail at Charleston Newspapers. Before that, he served in the U.S. Army for eight years, rising to the rank of Staff Sergeant and overseeing the aviation refueling operation of helicopters.
The thing he says he enjoys most about working at Ray Varner Ford is "the people, the families, and the joy of knowing you did your best to help them buy a new or preowned vehicle. It gives my heart great pleasure making sure each customer has an excellent, memorable experience."
Robert is married to Suzanne Long Holstein and has four children, two biological and two step children: Robert Jr., Kandace, Kierstan and Tyler. He has one granddaughter Nevaeh, with another granddaughter due on his birthday in July. Robert and Suzanne reside in Lake City on Island Ford Road. He loves country living and the peace and quiet of East Tennessee.
We're proud to have him as part of the Ray Varner Ford staff.