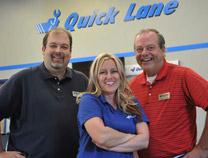 Ray Varner Ford's Quick Lane
®
Tire & Auto Center was created to make it convenient to get your vehicle properly serviced by factory-trained professionals.
We're open evenings and weekends, and we provide maintenance and repairs your car or truck needs most. But we also go even further.
Every time you come in, we provide you with an in-depth Vehicle Check-Up Report, so you know exactly what needs to be done. No only to we take care of the basics like oil changes and tire rotation, but we also do brakes, catalytic convertors, and other periodic maintenance, while you wait. The Check-Up Report also lets you know about upcoming maintenance, so you can plan ahead.
We use quality parts and lubricants from trusted brands like Motorcraft® and we offer 13 top name brands of tires, with a Low-Price Guarantee on every tire brand we sell.
Enjoy our coffee bar and free wifi. Our factory-trained technicians perform the service on your vehicle, and our helpful staff can answer any questions you may have while you wait. And since we're in one of East Tennessee's premier Ford dealerships, you can browse our new car and truck models.
The Quick Lane Tire & Auto Center is open from 7am until 8pm Monday through Friday, and 7am until 5pm on Saturday. Click here to learn more about our Quick Lane Tire & Auto Center and see our current specials.