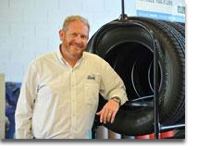 Service Advisor J.P. Wagner has worked at Ray Varner Ford since 2009. He has the unique ability to translate: He listens to customers who bring their vehicles in, and relays their information to the Ray Varner mechanics so they can more quickly get the right diagnosis of the problem to fix.
Then he translates the mechanics' technical explanations back to customers so they understand what's being done to their vehicles--and why. This is critical to customer satisfaction, and J.P. is very good at his job.
"It's rewarding to me when repeat customers come back and ask to speak to me," he said. "I know I've succeed when I've built that level of trust between a good customer and our dealership," he said.
Trust is extremely important to J.P., and he goes out of his way to make sure Ray Varner Ford customers have all the information they need to feel confident that their cars and trucks are being repaired properly and fairly. This is the case for people J.P. sees each month for routine service. And for people he only sees once in his lifetime.
"Since our dealership is next to the interstate, we get a good number of travelers who are facing an emergency repair," he said. "They're tense, and they all heard stories about how they could be ripped off getting repairs on the road. My job is to make sure they know we give them the same exceptional service as anyone who has bought several cars from us, and we treat them as a part of the Ray Varner family."
Often, he gets thank you letters from travelers he's helped. "That makes everyone at the dealership feel great," he said.
J.P. is a native of Hawkins County. He's an avid outdoorsman and enjoys golf when he's not helping Ray Varner Ford customers with service.
And if you're looking for a mechanic you can trust, call J.P., or any of our other service advisors. You'll be more than happy you did.