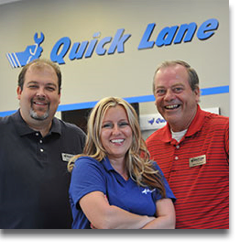 The thousands of potholes created by the winter weather is has cause alignment issues for lots of East Tennesseans. Ray Varner Ford is coming to the rescue with our Spring alignment special.
Right now, we are offering a four-wheel alignment on cars and small trucks for just $59.95 in our Quick Lane Tire & Auto Center. Our factory-trained technicians use the latest technology to give your vehicle an accurate, precise alignment, eliminating any problems that Old Man Winter may have caused.
Accurate alignment means better tire wear, easier steering, and even better gas mileage. At our Quick Lane Tire & Auto Center, no appointment is necessary, so come in anytime, and we'll service your vehicle promptly. We also offer excellent deals on top major tire brands, along with a spectrum of other vehicle maintenance and repair options.
So get your car or small truck back in alignment for only $59.95, just in time for warm weather weekend trips and vacations. Drop into our Quick Lane Tire & Auto Center today.