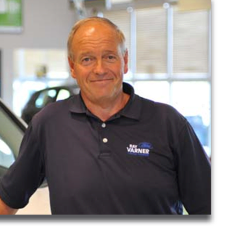 Ray Varner Sales Consultant Lou Gehrig knows that he has a very recognizable name. In fact, he sometimes gets reminded about it at work.
Like the time that Ray Varner called him over to introduce him to a customer. "This is Lou Gehrig," he said.
"Right," chuckled the customer. "And I'm Mickey Mantle."
But Lou doesn't mind at all. In fact, he says it helps him get conversations started with customers, and that lets him understand them better--which in turn, allows him to do his job better.
"We put great effort into listening to people when they come into the dealership," Lou explained. "If my name puts a smile on someone's face to get us started, then everyone's at ease and the customer finds it easier to tell me what he or she is looking for in a vehicle."
Lou is a native of Ft. Wayne, Indiana, who came to East Tennessee by way of El Paso, Texas. He married his wife Donna in 1993, and the couple moved to El Paso to be near his stepchildren's father. When the three kids were out of high school, Lou's intent was to move back to Indiana. But his wife visited her father in East Tennessee and showed Lou a video of the trip. He immediately fell in love with our natural beauty and said, "we're moving there."
So they came--without jobs or a place to live--but immediately fit in. Lou began working at Ray Varner Ford and found himself right at home.
"I love selling cars. You know the old saying--love what you do, and you'll never work a day in your life. The staff here at Ray Varner Ford makes it easy. Everyone's great to work with, and you'll never find a fairer man than Ray Varner."
Lou knows this from personal experience. Last year, he and Donna moved back to El Paso to be closer to their children, who settled there. Lou worked for another Ford dealer, but missed the camaraderie and exceptional professionalism he experienced at Ray Varner Ford.
"When I left, Ray told me that as long as he had anything to do with this dealership, I had a home," Lou said. "So I made the decision to come back."
Now Lou feels at home again, and his customers are benefitting from his remarkable expertise and his talent for matching people up with vehicles that fit them perfectly. He loves what he does.
Which in many ways makes him feel like the luckiest man on the face of the Earth.