Get Peace Of Mind On Auto Repair.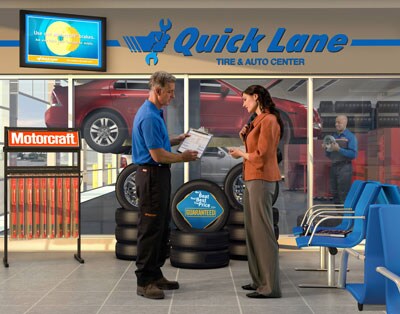 Your vehicle is one of the most important things you have in live. Whether it's a Ford or a competitive model, you rely on your vehicle to get you where you need to go everyday. But if something does go wrong, there's a way to have peace of mind when it comes to your automotive service and repair needs. And right now, you can save big.
With an Extended Service Plan from Ford, we can take care of all the necessary repairs your vehicle might need for the life of the warranty. Plus, if you sell your vehicle, it is 100% transferrable. 
Extended Service Plans are the choice of thousands who value peace of mind:
- 100% backed by Ford Motor Company
- Rental Vehicle Benefits (Up to 10 days for a covered repair!)
- Honored by all Ford and Lincoln Dealers in the U.S. and Canada
- 24-hour Roadside Assistance
- Coverage is 100% Transferable
- Interest-Free Payment Option (with approved credit)
Take advantage by calling (865) 457-0704. Ask to speak to the Quick Lane Tire and Auto Center. In some cases, we'll do a preliminary inspection of your vehicle. Any inspection is performed on site at Ray Varner Ford. 
The Extended Service Plan can save you thousands, and also make your vehicle easier to sell when you're ready for a new Ford. Call today and get on the road to peace of mind for your vehicle